TAFE NSW heavy vehicle courses meet high female enrolment demand
Paris Knight is just one of many rising heavy vehicle women enrolling in TAFE NSW's Coffs Harbour courses
TAFE NSW Coffs Harbour says it is seeing strong female enrolments in Heavy Vehicle Mechanics courses, helping to meet the high demand for quality workers in this industry.
Diesel Motor Mechanics are listed on the Skills Priority List – with the 2022 report finding the estimated vacancy fill rate was particularly low for occupations in Automotive Trades.
It is a growing industry on the Mid North Coast, with Labour Market data showing the region's Transport, Postal and Warehousing industry grew by 1,300 workers in the past five years, however the workforce is 87 per cent male.
In 2019, males accounted for 95.4 per cent of automotive apprentices and traineeships nationally. The Motor Traders' Association of NSW (MTA NSW) has said the industry is working to boost female involvement, as women are highly sought after by employers due to their attention to detail.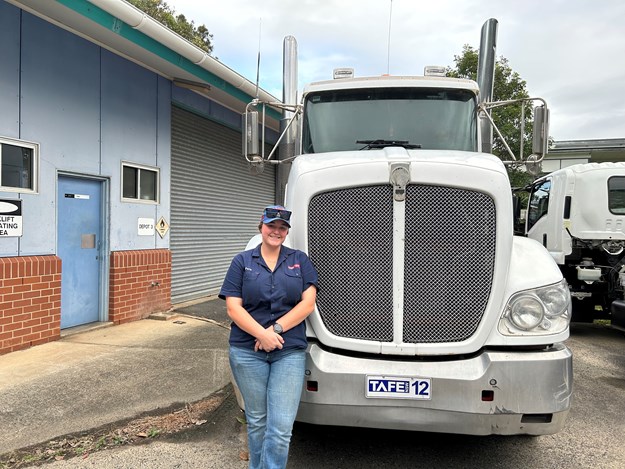 The semester one 2023 class at TAFE NSW Coffs Harbour had six females enrolled in Certificate III in Heavy Commercial Vehicle Mechanical Technology.
One of those is Paris Knight, an apprentice working at Mavin Truck Centre. She came through TAFE NSW as a TAFE-Delivered Vocational Education and Training (TVET) student while in high school, which she says put her in a strong position to gain her apprenticeship.
Knight says she has always been drawn to the practical skills needed in mechanics, having grown up rurally and learning mechanical repairs at a young age.
"I knew I was always interested in mechanics, having helped my dad do our own repairs growing up in the bush. The TAFE NSW TVET course helped me get ahead and turn that interest into a real career path," she says.
"This qualification means I can work in an industry I'm interested in, where there is plenty of work and I can earn a good income and stay living locally.
"There is more support for females these days, I do believe the stereotypes have been broken. My teachers at TAFE NSW are supportive and encouraging – as is my workplace."
Dealer Principle at Mavin Truck Centre Dean Mavin says Knight has a great skills base through her TAFE NSW training – and a positive attitude, which makes her a valuable employee.
"This is a fast-evolving industry with huge technical and environmental advancements being made all the time. We have several female apprentices, and they each adapt to new knowledge quickly. We need people like that in this industry," he says.
"It's a great time to be an apprentice, with strong incentives in place to accelerate their career and a strong pathway to more senior roles. We are fortunate to have Heavy Vehicle courses here in Coffs Harbour through TAFE NSW, as there is strong demand in this region for these workers."